Est 1984...
The All British Day is a static display motor vehicle event held on the second Sunday of February each year.
The origin of All British Day goes back to the early 1980's when a few like minded enthusiasts from local car clubs hosted a picnic day incorporating a small display of British vehicles in the St Clair recreation grounds at Woodville. From these humble beginnings in metropolitan Adelaide, All British Day as it became known, grew and eventually relocated to the picturesque town of Uraidla in the Adelaide Hills, its location for many years. The growing popularity and size and success of the event, both in number of entrants and spectators attending, necessitated another move. In 2013, we relocated again to the hills township of Echunga, which is our present location. All British Day is one of the biggest events in South Australia's motoring calendar.
The run up into the hills saw the introduction of the All British Day Breakfast held en route and has become a popular start to the day for many entrants. For some years now the Sporting Car Club have been running the All British Day Breakfast which is now held at the Mylor Oval. All British Day is a joint effort between registered vehicle clubs to bring together this annual display. As the name suggests the event is designed to cater for vehicles that are of predominantly British manufacture or design. With many of the marques on display and no longer manufactured, this is an opportunity for the public to see the results of many hours of enthusiast's hard work and skill on display, from the most prestigious brands to the more modest commuter of the day.
We have approximately 800 vehicles entering each year resulting in a rich and diverse range of British cars, motorcycles, trucks and even tractors that all played their part in Australia's history.
All British Day is an incorporated organization comprised of a committee of about 15 car club members each one playing their part in the running of the day.
We are a not-for-profit organization, the only funds we preserve and carry over are enough to fund the upfront costs for the following year's event. After the event, we donate to several local charities and groups that help us run the day. We work closely with the committee of the Echunga Recreation Grounds Committee and appreciate their efforts in coordinating various local groups to cater food and drink for the day. The food and drinks you purchase is directly helping the local community.
We cannot do it all, we greatly appreciate the generous support of the Mt Barker Council assisting us with this event. We engage the services of the Echunga CFS to manage the traffic on the public roads and our Anderson Road car park (owned by Echunga Golf Club), we too are also grateful for the help we get from the Flagstaff Hill Rotary Club for their work with the ticket sales on both gates and overseeing the traffic control of the disabled parking and public motorcycle parking.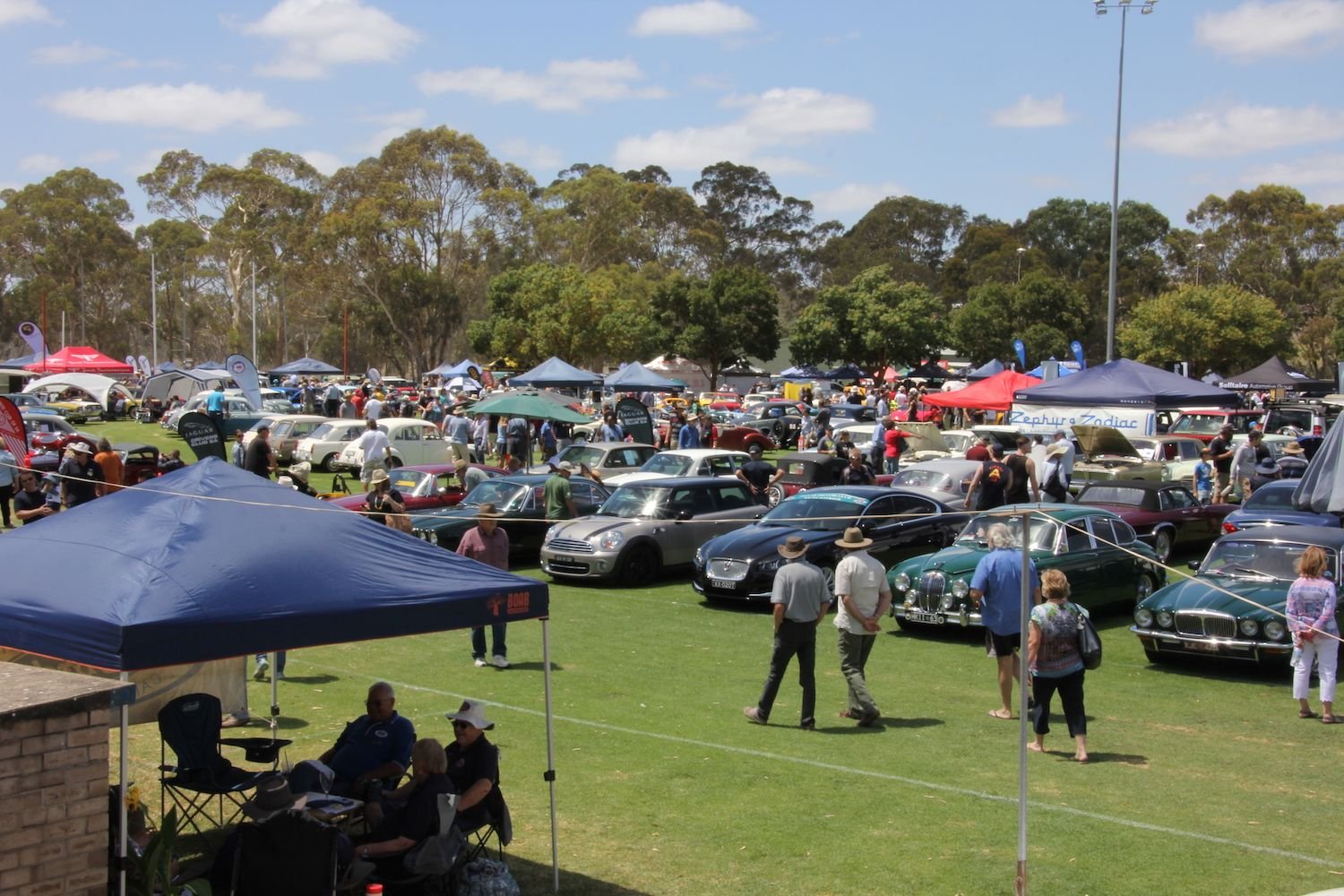 2022/2023 ABD Committee
Executive Committee
Jamie Sandford-Morgan - President
Rover Car Club of SA
Mike Beresford - Vice President, Treasurer/Data Manager
MG Car Club of SA
Lachlan Kinnear - Secretary
MG Car Club of SA
General Committee
Geoff Ellis - Sponsors and Traders
Triumph Sports Owners Association SA
Darryl Grey - Marshall Coordinator
Sporting Car Club of SA
Peter Mensforth - Oval Manager MG Car Club of SA
Steve Freeman - Grounds Logistics, Assistant Entertainment Coordinator
Hillman Car Club
Fred Butcher - Grounds Logistics
Jaguar Drivers Club
Kevin Berry - Entertainment Coordinator Humber Car Club of SA
Rob Martin - Club Shop Memorabilia and Administration
Rover Car Club of SA
Alistair Ferguson - Webmaster
Rover Car Club of S.A
Rick Hoffman - Traders Austin 7 Club of SA
Marcus La Vincente AM- Publicity and Promotions
Ray Goulter - Assistant Publicist
Velocette Owners Club of Australia
Paul Venables -
Motorcycle Coordinator
Veteran and Vintage Motorcycle Club of SA
Steve Williams - Committee
Graham Woollard - Graphic Design and Publishing
Brian Ford - Feature Club Co-ordinator
ABD Annual General Meeting was held on 10th May 2022.